10 Best Preschools Mumbai | Enroll Your Kid in Top Playschools Mumbai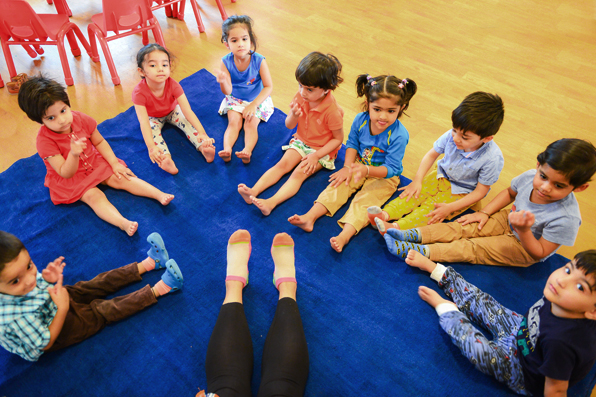 It is observed that a child's language skills develop faster by interacting with other children of their age. A child learns best by observing others – and what could be best than enrolling your child into the best preschools Mumbai. Mumbai being a metro city, it comes with wide range of options when it comes finding 10 best preschools in Mumbai. The city is known for offering great education from preschool to Ph.D. Every parent wants the best foundation for their child's education and that's why choosing a preschool becomes such an important decision. How do you know which is the best preschool for your child?
If you are a parent in Mumbai, looking out for the best start to your child's education, this survey gives you the list and tells you exactly where these schools scored ahead of the rest. The parameters considered to select the best of the list include:
Competence of teachers
Teacher welfare
Infrastructure
Individual attention to students
Value for money
Leadership/management quality
Parental involvement
Innovative teaching
Safety and hygiene
Special needs education
If you are on the lookout for the 10 best preschools Mumbai, scroll down to access this list of the best preschools Mumbai:
1.Vivero International Preschool – Powai
Spread across a 5000 square feet 3-storied building, the centre is thoughtfully designed to offer the Preschool as well as Child Care children warm and welcoming learning spaces.With an aim to make children future-ready, children of Nursery & Kindergarten use a combination of technology and traditional ways to express learning. A strong literacy and numeracy program ensures a smooth transition of children after Kindergarten to formal schools. Life skills including self-regulation, teamwork and leadership are integrated in curriculum for both Pre school & Child Care.
2.Kangaroo Kids – Bandra
The school aims to produce young individuals who will be caring and committed Indians while they create a place for themselves in the global community.
Kangaroo Kids International Preschool, Bandra is proud to possess a faculty team of highly qualified and competent teachers with teaching experience both in India and abroad. With the aim to ensure high standards of quality education the faculty members are encouraged to upgrade their skills and update their knowledge on a regular basis. All faculty members are subject to regular review and from the evaluation, further training needs are identified. Faculty undergoes mandatory training sessions that are planned yearly, in areas such as teaching methodologies, use of technology in class and such related subjects.
It is pertinent to place on record with gratitude the increased amount of workload the faculty members have taken on themselves to improve the academic standards of the school.
3.Besant Montessori Playschool – Juhu
To develop well-rounded personalities, children should not just indulge in toys & games but also sports. Besant Montessori is one of the Best playschools in Mumbai because it offers various sports such as basketball, chess & tennis even to young kids. Music and art classes are also conducted as kids are ardent to adapt to their immediate surroundings & grasp innumerable languages & skills as toddlers.
4. SERRA International Preschool – Lower Parel
Serra International Pre-school is introducing an innovative method of pedagogy in early childhood education. The preschool cater to the growing segment of quality conscious parents, who desire a holistic experience in the formative years of their child's life. They are committed to provide world-class early childhood education with globally accepted, best teaching practices.
Their aim is to provide a broad and balanced curriculum which will support individual needs and allow children to achieve their full potential. Presently they have numerous early childhood education centres across India and continue to expand while providing the finest quality early childhood education to all SERRA children.
5. Montana International Preschool – Andheri
Montana International Preschool Andheri (E) is situated in a busy locality, opposite to the famous Sher-e-Punjab temple. This centrally located center is spread across 2000 sq. ft. of land. With plenty of windows in each classroom the center ensures sufficient light and proper ventilation.
The preschool offers the best approach to child development, along with many other facilities such as sick bay, child care classrooms, diaper changing area, and so on. Their internationally based curriculum allows us to set high standards of education. Based on their whole child approach they offer multiple facilities such as water play, sand, play, learning corners, child sized washrooms and equipment and an in-house kitchen. They ensure the highest quality at all our centres through rigorous training for teachers.
6. Podar Jumbo Kids – Bandra
Podar Jumbo Kids is one of the top Playschools in Mumbai as they follow a combination of Montessori, Playway & Reggio Emilia. Annual events such as nature hunt, Azaadi celebration, Papa ko chipko, Gandhi Jayanti & Puppet show are organized to build a stronger connect with family & environment. An in-house puppet theater, well stocked library, sandpit, field trips, swimming pool, audio-visual teaching aids makes Podar top-of-the-mind recall for the best preschools & daycare for your child in Mumbai.
7. Harmony Montessori – Santa Cruz
Founded by Sri Aurobindo and the Mother of the Pondicherry Ashram, it functions in a manner to allow children to develop independence in all areas. They have a massive spacious environment which facilitates free movement and activity and an outside play area which includes slides, trampoline & sandbox. The extracurricular activities include dance, yoga, art and exposure to music.
8. The Learning Curve – Borivali, Chembur, Ghatkopar, Mulund, Vasai, Nerul, Virar, Andheri, Kalyan, Panvel
To provide internationally proven teaching methods and curricula to ensure the right kind of development of confident curious young learners. They have designed our learning activities in such a way that children can see, hear, touch, and if possible, taste things. The preschool ensures that they give their young learners the right impetus.
At The Learning Curve, it believes that children grow and develop when they are surrounded by love in a secure environment. Children learn best through play, experiential learning, and interaction with peers and adults. At The Learning Curve, the team strive to provide developmentally appropriate activities for all children while creating an appropriate curriculum. Their focus is on developing the 'whole child'. Activities are planned for the enhancement and development of specific skills.
9. The Rainbow Corner Early Learning Center – Walkeshwar, South Mumbai
Searching for a cheerful & fun place for your little one? Been looking for a trustworthy activity center for your kids? Concerned about your child's social development? The Rainbow Corner Early Learning Center, is an Award-Winning and internationally recognized Preschool from New Zealand. Known for maintaining the same standards, they have brought the best preschool and child care centre to South Mumbai.
The Rainbow Corner Early Learning Center is one of the Top 10 International Preschools in Mumbai. The school takes immense pride in introducing their high-quality baby sitting and preschool in South Mumbai (Walkeshwar). With the aim of establishing a great and fun place for a child to be, they strongly emphasize to provide all-round development in a homely environment.
10. Euro Kids – Presence all over Mumbai
EuroKids was launched in 2001 & since then have rapidly changed the face of Pre-school education in the country. Their success is one of the leading education service providers raised the expectations of many hopeful parents, who were keen to see their children continue to blossom under the expert guidance. This success has inspired the brand to start EuroSchool, which today is a network of 10 K-12 schools across 6 cities.
EuroKids has played an active role in the evolution of the education landscape with its portfolio of brands committed to delivering a robust foundation for future generations. By enhancing its pedagogy and consistently building a holistic, nurturing and secure learning environment for children, EuroKids is coming closer to its vision of delivering the best in education. Having bagged over 30 prestigious awards in the education segment EuroKids is constantly reinventing education in the country. The team has always strive to adopt the best practices in the industry to provide a superior educational experience.
The above-mentioned are the 10 best preschools Mumbai that offers amazing learning and teaching experience to your toddler. So, let your child get the best exposure so that the transition from preschool to the actual school becomes easy.