Know About A mazeum-first children's museum in Pune
Expert session Questions and Answers
Toyzoo is a soft play area and mainly focuses on physical play. Amazeum has a wide variety of exhibits ranging from science, art, role playing, building spaces, physical play etc. For children, Playing is Learning and we have a range of activities designed based on each child's different interests.
For example we have a water exhibit where children can build channels, race boats, build dams, channelise the water to run the turbine and essentially have loads of fun playing with water! But they are making observations as they play, they are understanding the concepts of water, its flow and dynamics, all in the form of play.
We are located on the 2nd floor of Pavilion Mall on SB Road.
The prices are:
Weekday
1st Hour- Rs 649
Additional Hour- Rs 100
Weekends
1st Hour- Rs 749Additional Hour- Rs 100
Whole Day- Rs 999
Adults are complementary and can join in during the play with their child;
We have had so many adults having a wonderful time playing at Amazeum.
We have a toddler area for kids where they have sensory play- with music, lights, patterns and textures. We also have a small physical play section but she is free to explore the other areas of the museum too. The prices for toddler are different at Rs 249 on Weekends and 199 on weekdays.
A 13 year old will specially like our science space where they experience the concepts of magnets, pneumatic tubes, air, gears, water etc. They will also enjoy the building spaces that we have and the art and physical play too.
Adults are not charged and they are complimentary. We would love for you to participate in play. We only have 2 charges – for kids below 1.5 and above 1.5 years.
Our Philosophy at Amazeum:
1) We encourage Free Play (instruction free environment): Children can pick and choose what they want to do, they can use their brain and their body, and they can do what they are doing without any instructions. I think kids these days are given a fair bit of instructions at home, school, classes etc. We wanted to create an environment where they can explore, imagine and discover on their own- essentially encourage FREE PLAY!
To give you an example: We have a Bubble exhibit where kids can stand in the middle of a hoop and pull the rope attached to the hoop to create a tall bubble around them. For more than a month after we started the museum, we would stand in the middle and pull the rope to make a 7 feet tall bubble around us- which was great. But one fine day, when our play facilitator was walking by, he saw huge bubbles coming out of the bubble area. On further investigation, he saw an 8 year old girl standing in the middle, making a 7 feet tall bubble around her and blowing into it which resulted in big spherical bubbles being made. We were absolutely amazed! It had been a month since we opened and we were not even aware of the possibility till that little girl visited the museum. We can give you many many more such examples at every exhibit of ours whether it is the water works, the art exhibits or even the role playing section. The kind of conversations, questions and things that children create is extremely interesting and unique and it has totally stumped us and the parents who accompany them.
Essentially by allowing our kids to explore, we may find that they come up with something absolutely unique. That is what probably leads to innovation
2) Awesome fun to see parents and grandparents participate in play- We have seen fathers and daughter trying to build structures together on our earthquake table, grandparents and grandkids role playing at the chefs café and build special memories together
3) Every child has a different interest- which is why we have a wide variety of exhibits catering to their different interests.
Amazeum is a place where Children Play to Learn and Adults Learn to Play!
Yes, we do. Please get in touch with us on 9168880225. We also have very nice birthday packages.
Absolutely. We have had a bunch of schools who have come to us already. We have a very different pricing for schools.
Children's Museums are very popular in the US and they have over 350 Children's Museums there. It is a concept that is relatively new to India. I visited a Children's museum for the first time when my son was 2 years old and was completely blown away by the experience. All of us had such a fantastic time exploring the museum that we did not realize how time passed. We spent time at each exhibit area trying different things, and we had to go back the next day to explore some more. We really wanted to bring the concept to our very own city- Pune and which is why we got in touch with a museum consultant in the US who helped us conceptualize and bring Amazeum to life. We have also done a wide variety of workshops at Amazeum in the last 9 month from a Charkha Workshop, Building Science Toys to understand the concept of Sound, Story Sessions on Shivaji Maharaj at the Fort, Writing Workshops by Sowmya Rajendran, Warli Art workshop etc.
To be part of the online sessions subscribe HERE
To volunteer for a session , if you are an expert , fill your details HERE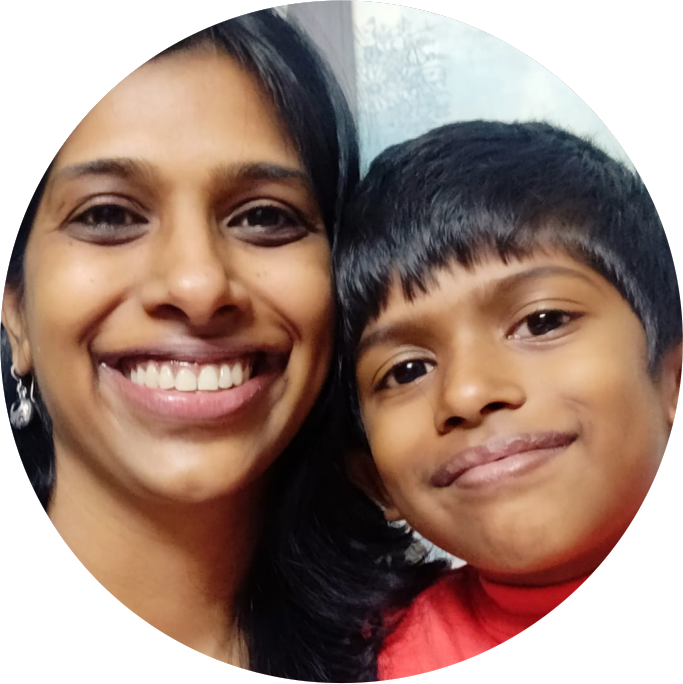 Praveena Balasubramanian – Know about Amazeum- the first children's museum in Pune
Praveena Balasubramanian – Know about Amazeum- the first children's museum in Pune
Praveena is the founder at the newly opened Amazeum Children's Museum – a unique children's learning-cum-playspace at Pavillion Mall, SB Road, Pune. Children's Museums are globally known for offering playful learning experiences to kids. Amazeum has been designed and built based on this proven concept of Children's Museums and is the first and only such initiative in the Pune/Mumbai region. At Amazeum, children can play with science based exhibits, explore a fascinating fort, build cool stuff with huge blocks, create art masterpieces or pretend to be chefs, doctors or mechanics! Spread over 8,500 sq ft space, every exhibit has been built to be hands-on, and experiential for kids, and has a learning element built into it.