How to Identify the Passion in our child
Expert session Questions and Answers
Your child is in the formative years and the good news is that she's bubbly, curious and keen to know more, best times to watch her interests closely and in a few years you will know her actual interest. As parents we need to have loads of patience for this activity.
When you ask for a field, I am assuming what interest/hobby she should pursue. Nurture her to take part in competitions in schools, Helen o grady has good dramatic classes etc, since communication is her strength, and getting her to participate in events in schools etc content will get built in her delivery. By then there will be good clarity on the way forward. Today good communication skills is the key for every successful person, and if your child is gifted cultivate it.
Let both of them explore this world with your supervision, they are still shaping up. As they come close to teens with limited time in hand they will choose what they love the most and drop the rest, till then let them explore. Yes, as parent twins it will be a hand full exercise to find out about both , but it is worth the effort, somewhere you will find some common areas. Spend good time with them.
Today kids are best multitaskers if you actually see their schedule, don't decide for her, but aid her with good info about all the areas of interest for at least a few more years, all areas have good scope and exposure to grow, when academics comes closer to her, then she will chose the best.
This is very natural of a child, in fact we as adults need to develop this quality, as long as she is active dont worry, ensure she is exposed to more and more challenging activities and as a parent you too should be fully involved, with time she will hit her sweet spot, don't worry.
Good question, while your child is active, she is watching you, as parents we are role models in all sense, so if you have a hobby or interest keep pursuing and give her the opportunity to explore , she will do well.
One can adopt very simple and easy ways to know our child interest such as spend time with them when they do they homework, introduce them to different sports and instruments, take them to art galleries, get them to help in daily chores like gardening, tell them what is happening around, take them to movies and malls and come and ask them what they experienced liked, etc such instances will give you enough data points to know her interests.
There are many good career guidance websites and agencies who can help, if she is 12 years old she is still in school, don't worry too much ask her to finish her 10th with good scores, and then decide career options. Maybe you should start doing your research on various options available while she is focusing on her studies now. Schools also generally help in this.
I just answered some time back, your daughter is still young so let her continue to explore in all the fields. You can decide as she is finishing her highschool in terms of which field etc. Expose her as much as possible in all her areas of interest.
It's too early to decide if the child is successful or not in a sport, I think you should allow her to continue playing and stop talking about results, sports today acts as a big stress busters in a child's life, Today there's so much info on advantages of sports, so please get her to play again if you have stopped her, but if she has stopped by herself, speak with her and find out the reason why rectify the issues and put her back to action. She will do well in acads too.
You are lucky if your child will adapt to your choice, else let your child explore by her/himself.
Your child is gifted, please expose him to the creative side of today's world, please be part of communities which promote art and creativity, there is ample opportunity, he can communicate to the world with his work, don't worry. Be by his side and encourage him and ensure he has a supportive environment.
He can learn french online. There are many free videos he can refer to.
16/17/18 years in a child is a challenging phase as a parent to deal with, your child is basically intelligent so if he makes up his mind he will do. It's an age to get carried away, we as parents need to have the skill to handle and yet not let focus dilute. How this needs to be handled depends from family to family. All that i can say, keep up your efforts, he will come back, just because he was interested in physics it does not mean he will continue to, if he comes back with something better, accept and encourage him to excel in it. Please handle this patch with patience.
Sports does not mean only physical activity. So it's fine, but basic physical activity for keeping up good health is needed. So as a parent if we start following a discipline of physical activity like walks or run or yoga am sure he will be enthused to join. Parents need to walk the talk.
This question is beyond the scope of today's topic. I am sure the admin has taken note of this. Good luck.
He is very small, typical of kids, let him enjoy what he does, take him to aerospace exhibitions, air force shows etc, expose him as much as possible, as parents we need to take time out of our busy schedule and spend time to know our children better only then we can identify his/her interest, it's a join journey and not solo. Best wishes.
Good question, there is no straight jacket reply , we has seen in today's chat there are kids who are able to do multiple things at one time effortlessly and are spoilt for choices, in which case they should allowed to continue, but if the kids are sent to multiple activities because of various reasons other than sheer interest levels of the child then one should stop upto a point. may be what he/she is willingly wanting to do. So we would need to understand our child and take a call.
Your question is best answered by an expert, I am sure the admin has taken note of your point. Take care.
Does she need to practice for 2 hours every day? At 6.5 years, she may also want to do other activities, so if it's not mandatory for 2 hours, consider an optimum time and ask her to practice, sometimes, you need to encourage her. In Spite of it, if she's not interested, then start exposing her to other art forms, music etc, since she is small she will pick up very fast. But somewhere if she wants to excel you would need to gradually get her to realise that there is not substitute to hard work.
I agree with you, some children spot it at an early age and some take time, but that does not mean they will not excel. Give it time, here we cannot say there is no time, we cannot go against nature, yes we need to ensure enough resource support is given to them. The beauty of passion is from heart and mind, even in the midnight one does not mind indulging in the passion.Good luck.
With children we need to measure it bit by bit, today we have musicians/sports people who have graduated as engineers once upon a time. So at 12, long term definition needs to be truncated to short to medium term.
To be part of the online sessions subscribe HERE
To volunteer for a session , if you are an expert , fill your details HERE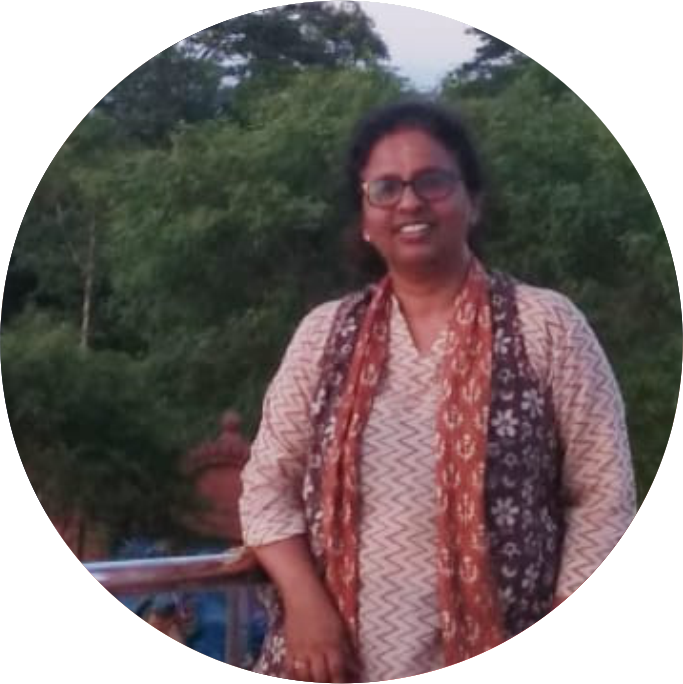 Ganga.S – How to identify the Passion in your child
Ganga.S – How to identify the Passion in your child
Ganga S has 28 years of work experience. She has been a corporate banker for 15 years and has over 13 years of experience in the education sector with leading educational institutions both as a faculty and administrator. She has worked with SPJIMR,SINE,IITB to name a few and now works with Entrepreneurs in the startup ecosystem.