Prevention of Triuma in Children
Expert session Questions and Answers
Trauma can be defined in various forms as they are divided in different categories. Since one of your children is still a child and the other one is a young adult, the definition remains the same but the reactions differ. Examples of traumas could be emotional, mental, sexual and looking at the lifestyle we all live right now even technological and financial.
Introverts- covid-19 is the best time for them as they don't have to interact with a lot of people, so reading a book, listening to an audio book, coloring, cleaning up his/her toys. Extroverts: they are anyways facing difficulties as they like going out meeting and talking to people so the built up energy can be utilised by getting them involved in simple household chores like watering plants, putting the unbreakable washed dishes, helping out with dusting and playing games that involve more physical energy.
It can't be defined as natural, some children face short term retention. So you need to give them a reminder often and try to give positive reinforcements for remembering which are simple and don't involve money.
Your son might require behaviour therapy in this case. So if you see his anger or built up negative energy is taking up the negative side of his behaviour. So to help him understand his behaviour and direct it in a correct direction you need to take up behaviour therapy.
Positive and negative reinforcements are sometimes you can start with. Giving positive reinforcements for good behaviour and negative reinforcements for negative behaviour. Positive reinforcements could be making his favourite dish, increasing his tv time by half an hour. Negatives could be no junk for a week and cutting down on tv time.
Firstly I'm glad that you approached a speech therapist. It's not a mental concern, continue with the instructions given by the speech therapist ofcourse it's a long process but you'll see the results with some patience, commitment and compassion.
I would suggest firstly get him assessed by an occupational therapist and take up counselling sessions as well.
With some children it happens easily with some it takes time to recover as every child is different. You need to monitor what all she is viewing throughout the day on tv or laptop or tab or mobile. And at night make sure that you read a story to her which has a good moral as children relate more to stories and please get her involved and not make it robotic.
It's a very common concern in siblings. I would suggest please take up counseling centers for the same.
It'll happen as he is not used to such behaviour from your end. So he'll create distressing situations. The key is compassion, patience and consistency. You can't expect patience from them but here you pay an important role in communicating to them that you and your spouse are the decision makers for your child and they need to take your permission before letting me on his own.
Don't keep the study times too long and you need to keep and create a rational thinking as to why studying or any other task is important with them in a more mindful manner.
That's ok. Please be less vigilant of every small thing your children do.
You need to involve your daughter in more non digital activities and build a good rapport with her and also get her involved in helping you take care of your son by playing different games with him. That was in some days you'll see changes in both of their behaviors and also you'll see that they are following your instructions. I would like to inform everyone. As pooja mentioned earlier I do that private sessions (Mumbai) and online sessions for all ages groups so please feel free to contact me on my number or my email id if you are looking for counseling or arts based therapy sessions.
No: 8879556896 Email id: vijayta.jagnani@gmail.com
If he is interested you need to tweek around his time table and concentrate on his physical growth so that he feels you value his opinion. And whether or not he becomes one you need to be by his side and not underestimate him.
Therapeutic sessions based on different art forms. Drawing, drama, story telling, play-way and music.
To be part of the online sessions subscribe HERE
To volunteer for a session , if you are an expert , fill your details HERE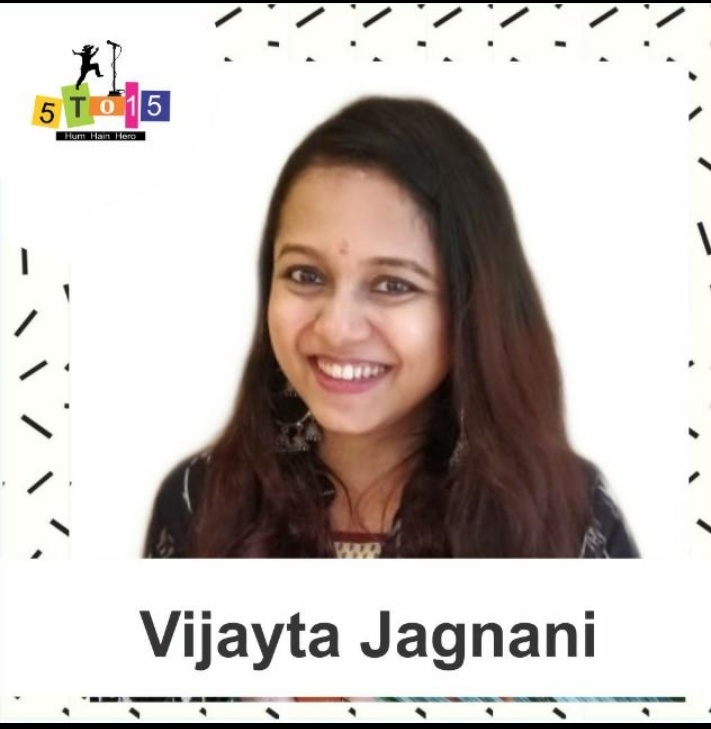 Vijayta Jagnani – Prevention of Trauma in Children
Vijayta Jagnani – Prevention of Trauma in Children
Counsellor and Art-based Therapist, Vijayta Jagnani has completed her Bachelors in Human Development through Nirmala Niketan College (Mumbai University) followed by Masters in Human Development through SNDT University (Mumbai). She is a qualified Art's Based Therapist since the last 3 years from WCCLF University Pune. She has worked in various schools and counseling setups like GAET Counseling Center, Gundecha Education Academy and Trijog in the last 6.5 years of her career. She has also worked with Aditi Nadkarni at St Andrews School Bandra as a school counselor. Along with that she was a life skill trainer for Khalsa College Third year students.
She currently works with Arpan NGO as a Healing Coordinator also takes online and private sessions for cases over various age groups and difficulties.