Yoga for Children
Expert session Questions and Answers
As early as 5 years. It has to be more fun than yoga asanas.
There are different forms of yoga. Yes at the age of 15 she can practice more dynamic form to lose weight.
It is called Astanga vinyasa or power yoga.
Twice to thrice a week is good.
Breathing exercises will help. Practices like Anulom Vilom, belly breathing etc are good.
It is a perfect age to start both breathing practices and Pranayam. These are very good tools.
All forms of yoga help with anxiety. One has to breathe in the right way while practicing.
For really younger kids it has to be with music , games, nursery rhymes they know, fun props and a very interactive teacher.
Including stretching exercises, yoga asanas focus on increasing the flexibility of the body. These help in attaining a good, taller posture. Performing yoga releases mental and emotional stress and relaxes the body. This also leads to a release of the growth hormone, which helps in increasing height.
Once the kid is ready to follow instructions you can teach them surya namaskars. But not forcibly. Yoga should be fun for kids at any age.
Yes you need to be trained to work with kids.
I started initial training at Param yoga in Aundh.
For really young kids it could be during play time. For eg Animal walks etc. You can also participate. For slightly older kids take them to a yoga class.
Blowing a feather first fast and then slow, blowing on palms and cover eyes and count 10, Counting breath backwards from 10 to 1, Lying down belly breath with toy on stomach, Mantra chanting. Play mantras every morning. These are a few ways to help kids do breathing exercises that are fun. Also, your twelve year old might be able to do Anulom Vilom.
Some basic poses like Sukhasana(cross leg), vajrasana, padmasana will help bring length in your spine. Do some twists too. This is applicable for both adults and children.
Some of the things you can do with kids with proper trained teacher:
Eye exercises, Candle meditation, Animal poses and animal sounds. Blow on closed palms and cover eyes and count 10. 5-2 4-2 3-5 sequence coordination with breath and fingers. Breathing exercises will definitely help with focus and sleep related issues. For asana practice, get him to join a proper yoga class.
The best advice I can give you is something I have tried, which is chanting. Simple OM chanting helps. You chant holding their hands too.
First you need to check strength in his/her legs. Then come up with a plan.
For kids don't worry about too many instructions. Just breathe in from one nostril and breathe out from the other.
All standing poses in yoga. Especially Utkasana.
To be part of the online sessions subscribe HERE
To volunteer for a session , if you are an expert , fill your details HERE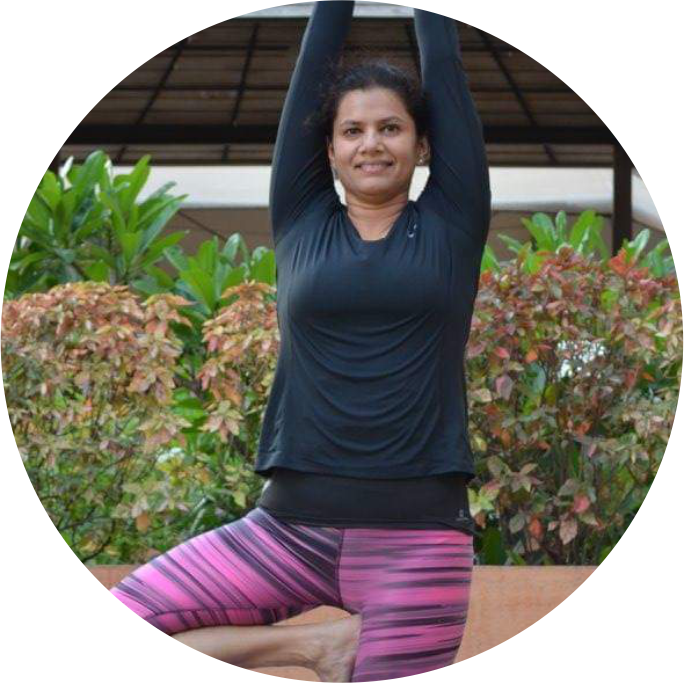 Deepa Nair – Yoga for Children
Deepa Nair-Yoga for Children
Deepa Nair is an Internationally Certified Yoga Alliance Instructor(RYT 200 USA) and Fitness Trainer. She is also a certified Yoga therapist, Pranayama and Pilates teacher.
She started Yoga By Deepa to be able to spread awareness among adults and children. A lifelongChildren enthusiasm for fitness led Deepa Nair to Yoga and she has been a passionate practitioner of Iyengar Yoga after being introduced to it in 2008. She was amazed at the physical and mental advantages it offered and found a passion for this discipline. After learning and practicing for over 2 years, she began teaching in 2010 with a qualification in Hatha Yoga. Her classes draw on many styles of Yoga and her approach is gentle yet focused.
There is an emphasis on getting to know your own body and mind. The classes focus on stretching, breathing, relaxing and gradually developing flexibility and strength for age group 12 to 18 years. She specialises in working on improving focus, memory, self-esteem, academic performance, and classroom behavior and also helps reduce anxiety and stress in these kids. She also works on mindfulness that offers psychological benefits. Early in her career, she managed the Weightloss business line for Airlife Fitness Studio. Armed with that experience, Deepa has been working with kids facing issues like child obesity, diabetes, depression and anxiety. Deepa believes Yoga should be part of the school curriculum. She has been working and volunteering with many schools to make it happen.
According to Deepa, she has been very fortunate to have worked with and learnt from very senior and experienced teachers like Dr Renu Mehtani from Param Yoga and Senior Iyengar Teacher Vibha Kale.