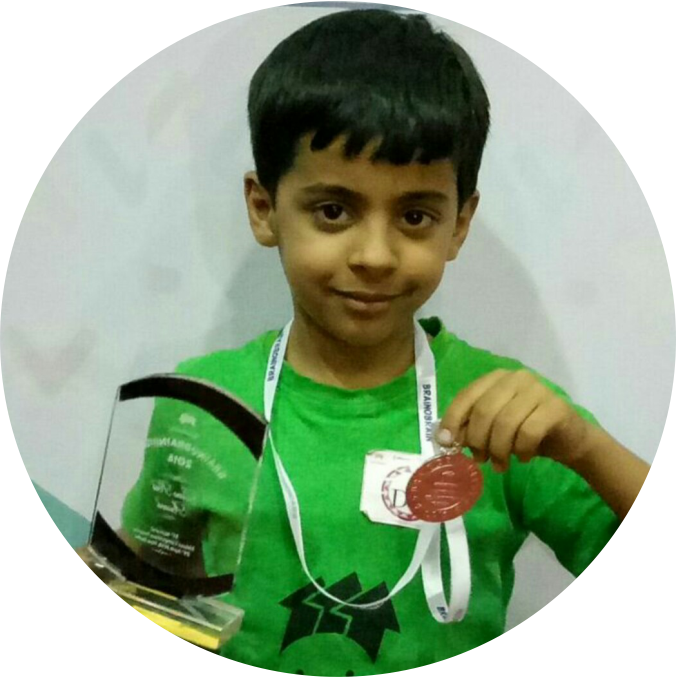 Dev Wadhwa
A Student of the Global Indian International School, Pune Dev Wadhva, our 8 years old champ is an Abacus Champion! Children at this age are generally not fond of numbers, but Dev, on the contrary, loves them. He has Demonstrated his Abacus Skills at a National Level Abacus Competition held in Delhi. Dev has won numerous Gold, Silver and Championship trophies at State, Inter-state and National level for Abacus. Dev has been a part of a Guinness world record which broke the record of China for the highest number of participants attending the Arithmetic competition. Not only numbers, Dev is excellent with words as well. He also stood among the top 5 participants for spell bee competition at the district level. He has also achieved accolades at the international level project competitions.
Dev Wadhwa a 10 year old Indian stood among top 5 contestants to win "SPELL BEE" competition at a district level.
The competition, which can only be described as immensely intense, initially started with 50 plus contestants. These were narrowed down to 5 finalists, each of whom proved to be more resilient than ever. Dev Wadhwa happen to give a tough competition to his peers and stood 3rd for the project competition which was an inter campus competition organized by the Singapore campus of their school.
The Spell Bee is a high-profile, high-pressure endurance test. Contestants are are the nerds who are preparing for on various combinations of spelling spending months on it.
The stress of competing against the dictionary is seen on the contestants. So, they are seen nervous as they took their turn at the microphone and in front of the television cameras.
The spellers come from all over the city, and several had appeared at the Spell Bee competition in previous years. The spelling bee competition which has been running for decades now is becoming more challenging day by day. However, the young contestants and their families are going the extra mile to ensure the victory.
Whether it is sports, a humanitarian cause , an innovative venture or a unique talent, " 5 to 15 " event will endeavor to showcase the special qualities to the world. Hence, the event will help them showcase their talents and achievements giving them a huge visibility.
For more details visit our website.